We strongly believe that solar photovoltaic energy will be ubiquitous throughout Cameroon and Africa in the near future and we want to make a significant and positive contribution to this.
Solar energy in households
For African households, whether in rural or urban areas, energy is one of the major issues in daily life. Lighting, the use of electrical appliances, cooking equipment, and food preservation require significant efforts for many households.
Energy issues in Africa :
The high cost of electricity

Untimely power cuts due to low electricity supply capacities of national companies

Lack of connection to the electricity grid for most localities (especially in rural areas)

Difficult access to fuels such as gas and the environmental problems of using wood or coal for cooking
All these difficulties of access to energy find their solution in the development of solar energy. Thanks to the performance of its technology, solar energy offers considerable advantages in terms of efficiency and financial returns for households.
The advantages of a photovoltaic system:
Sizing according to household energy needs

One-off investment

No energy bill once the investment is made

Year-round access to electricity
With the grass season and the difficulties of watering cattle in pastures far from the water supply, there are a number of self-pumping solutions where water is available. The more the sun shines the more the animals drink / the more the land tends to become dry.
Our unique solar watering and irrigation systems work with adjustable panels, which convert light energy into 12 V direct current. This current is stored in a battery, which is protected from overload by a regulator. When the water level in the tank drops, an electric switch is triggered to start the submerged pump in the well or other water supply. When the tank is full, another switch switches off the pump.
With the power of the sun, Solar Pumps …
Provide sustainable, cost-effective and flexible alternatives for regular water supply to farmers and livestock keepers

Efficiently pump water from wells:
Above a depth of 50 m with a pumping capacity of up to 50,000 litres of water per day

No operating costs

Are affordable and can be installed anywhere in the world to support local economic development

Replace existing surface water pumps driven by generators, hand pumps, submersible water pumps

Are salt water resistant to prevent corrosion
The battery has an autonomy of 10 days with a daily flow rate of 2,500 litres.
Depending on the volume or capacity of the water troughs, our solar waterers can meet the needs of 30 dairy cows or 30 to 45 suckling cows.
With its high-quality materials, the system requires no special maintenance and pays for itself in a very short time.
Solar energy in the industrial sector
In terms of industrialisation, energy is the raw material itself. With the problems of access to energy that the African continent is experiencing, and the necessary efforts to be made in terms of environmental protection, the challenges are now considerable and urgent for the development of industries. The energy situation on the African continent requires a real revolution which consists of developing strategies to be autonomous and above all to make savings in energy.

In many other respects, solar energy is one of the solutions for achieving both self-sufficiency and a return on the investment in development costs.
Other benefits of solar energy in the industrial sector :
Efficient and autonomous management of its energy production

Implementation with independent facilities

Reduction in production costs due to no energy bill in the medium term

Promotion of environmental protection through the use of clean and non-polluting energy
Winsolartech is your specialist in the design, sizing, installation and maintenance of solar energy systems in various sectors such as
Other benefits of solar energy in the industrial sector :
The food industry

The hotel and restaurant industry

Service companies in all sectors
Solar kits: Our range of stand-alone solutions
WINSOLARTECH offers solutions for the electrification of sites isolated from the electrical network. Depending on the chosen power, you can supply lighting, office equipment, pumping and small appliances. Our solar kits can also be associated with a generator to supply high power appliances.

Optimised battery capacity (Ah): reliability and lifetime

Electrical and mechanical protection

Professional equipment
What can be powered with a solar generator?
Charging of mobiles, smartphones, tablets, cameras…

12/24V pumping, watering

Cold: refrigerator / freezer

Small domestic appliances
What does the production of a kit depend on?
The power of the solar panel (in Wc).

Your geographical area

Orientation and tilt of the solar panels

The presence or absence of shadows on the solar panel
Our benefits
Production guarantee for solar panels: 20 years

Production guarantee for solar panels: 20 years

Production guarantee for solar panels: DC protection box (panel, battery and use)
Self-consumption
WINSOLARTECH offers a wide range of ready-to-use solar self-consumption kits, retail components to assemble your custom installation.

Thanks to its experience in the field, WINSOLARTECH selects reliable and robust professional equipment for its self-consumption solutions:
Panel production guarantee: 20 years

Microinverter warranty: 15 years
Solar powered refrigerators: Selection criteria
The choice of a solar powered refrigerator depends mainly on its location and type of use. It will depend on the type of operation, which influences its performance, and on the size of the tank.
How the solar refrigerator works?
Condensation or absorption? The choice is made according to the local sunshine and the available space:
Condensation: This is the classic fridge which, to be solar powered, only needs to be connected to an autonomous solar kit in direct current (12 or 24 V) supplied by panels and batteries or in alternating current (220 V) via an inverter. Compact for camping, caravanning, boating and motorhoming or as large as a domestic fridge for the cottage, house or isolated site, this is the fridge that allows all possible sizes with or without a freezer and even a cooler.

Absorption: It is a specific device that requires a large tube collector to raise the temperature of the refrigerant components sufficiently. It is a device that can be built in very remote locations to equip field clinics or fixed stations to preserve samples, serums, vaccines and medicines. It does not lower the temperature sufficiently to preserve food for long periods of time or to produce sub-zero temperatures.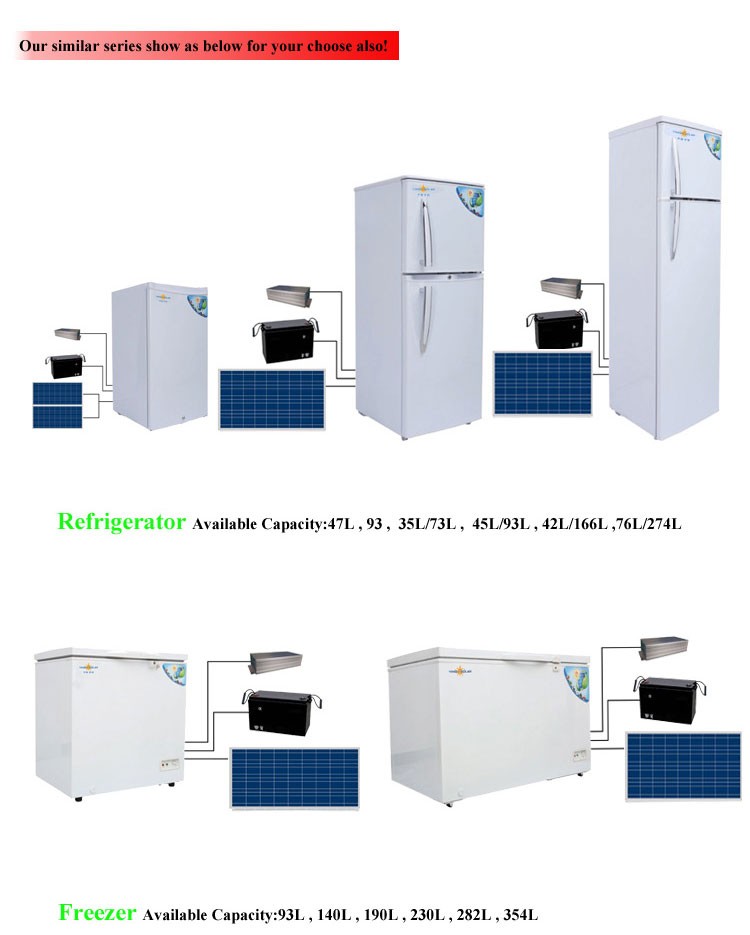 Good to know: equipped with photovoltaic electricity storage batteries, the absorption refrigerator can operate day and night, whereas the solar condensation refrigerator only produces cold at night (expansion phase of the fluid heated during the day).